Hi all,
Please excuse the length of the story, but I hope you find it of interest. I've kept the file sizes small.
This is the story of a parrot who breezed in one day and tried to take over the joint. He first appeared clinging on the window near where I was typing. As this didn't cause enough of a reaction, he dropped down and started pulling some of my wife's plants apart and eating a tiny selection of the choicest parts, before ripping another chunk off. Hoping for a quick photo as he flew off, I grabbed the camera and tiptoed outside.
01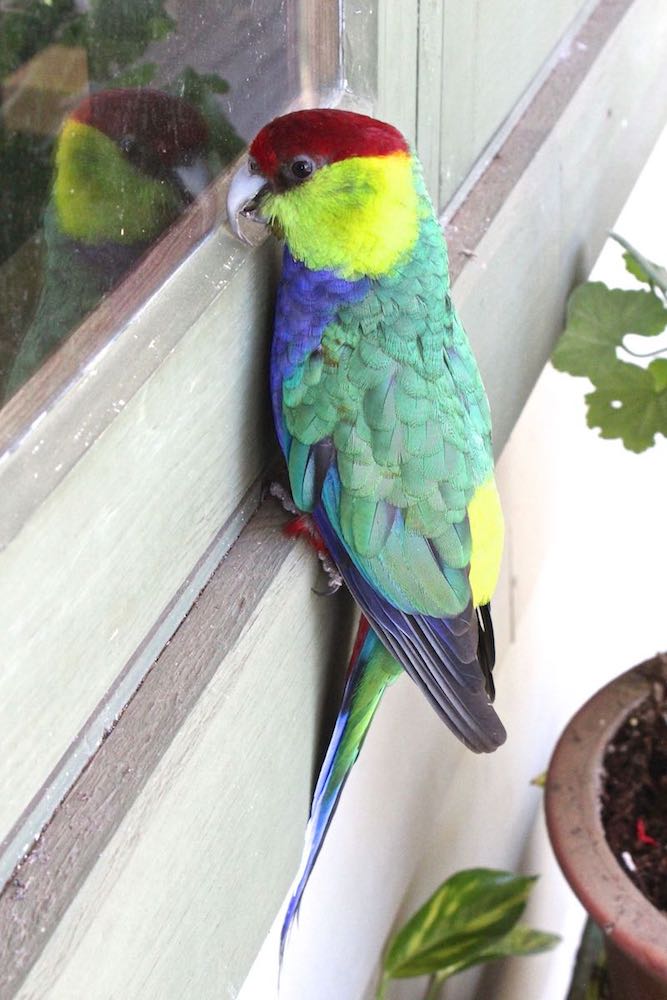 Far from flying away in a panic, I swear he started posing! Strutting up and down, chatting away in parrot-speak and generally telling me what a hell of a fellow he was. And looking every bit like a parrot who had temporarily lost his pirate. Gram for gram he must be one of the most ambitious creatures I've ever met. We probably should have named him Napoleon or Attila, but my wife christened him The Ferret before we wised up to just how much of a tyrant he was…
Our first thought was that he had escaped from somebody's nearby aviary and was tired, lost and hungry. So V brought out some snacks. He tucked into a bit of multigrain bread, picked through some seeds, nibbled on some carrot before dropping it disdainfully and then chewed up a decent chunk of broccoli. Clearly he recognised a pair of suckers when he saw them!
02
His long beak and ease with humans suggested that he may have spent quite a while in captivity, not having to work too hard for a feed. Over the next few days he lived the life of Riley whilst I scoured the local notice boards and online Lost and Found sites looking for a distraught "owner". Nothing. Either he'd been well and truly out in the wild for a lot longer that we'd imagined, or perhaps the person whose pet he had once been had died. Or perhaps they just got tired of being bullied…

03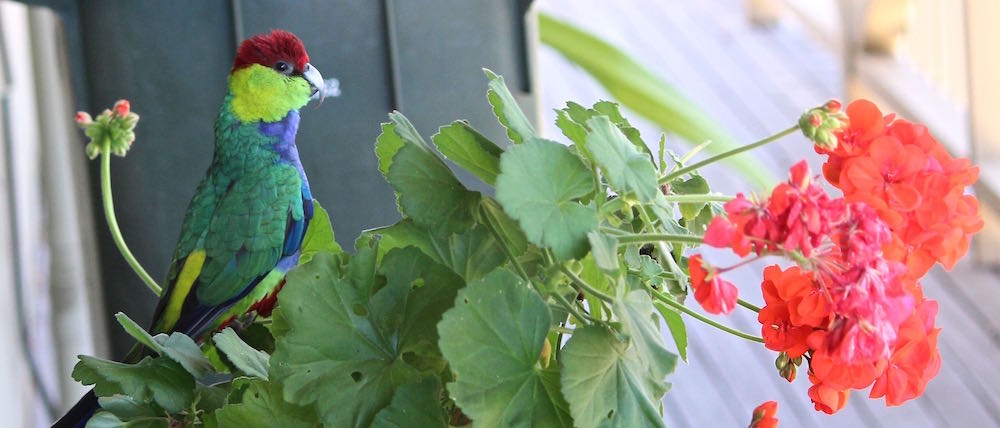 04
He quickly made himself very much at home. We thought it might be because our verandah is wide and has see-through shade cloth blinds, and it might remind him of the safety of an aviary he once called home. At first it was undeniably rather cute watching him strutting up and down the clothesline on the verandah, swinging on the cords and generally showing off. But the little piles of white 'presents' began mounting up. So we moved the bowl with his snacks slowly round the verandah until it sat outside. By this time he had decided that the tops of the open fly-wire doors and selected plants were just perfect for his requirements. Which were to be able to poo on the verandah from a great height and to look down on humans. Literally and metaphorically.
Then he started sitting on heads. Firstly a visiting parrot loving friend and then my wife. Not so bad the first time, but V clearly wasn't quite subservient enough, so he bit her on the nose just to underline exactly who the Alpha bird was. A close encounter of the beak to beak kind that she could have done without…

05
We humans can be decidedly slow learners at times. V still had plenty of nose left and we were willing to forgive his "mistake". I even hung a hastily constructed hanging basket style bird table outside the kitchen window to help keep him in the style to which he was very rapidly becoming accustomed. But his chatter became increasingly strident and he tried to bite me on the hand as I was putting some food out. And I got a scratched cheek for my troubles too. Obviously there was some punishable deficiency in my grovelling technique…
So now we had a bit of a problem. Clearly we were meddling in affairs that we knew nothing about. Making ill-informed and probably anthropomorphic interpretations of birdy behaviour that was marching to a different drum to our own. But both of us dislike seeing birds in cages, and Ferret was after all a local species. I'm not sure what the appropriate penalty is for assaulting a human on the beak but we didn't feel that it warranted another jail term. We also knew that if we advertised him we'd be wide open to somebody claiming to be his "owner", catching him and then flogging him to the nearest pet shop. Somebody local had apparently advertised a found galah and had numerous obviously bogus claimants ringing them up. No thanks.
06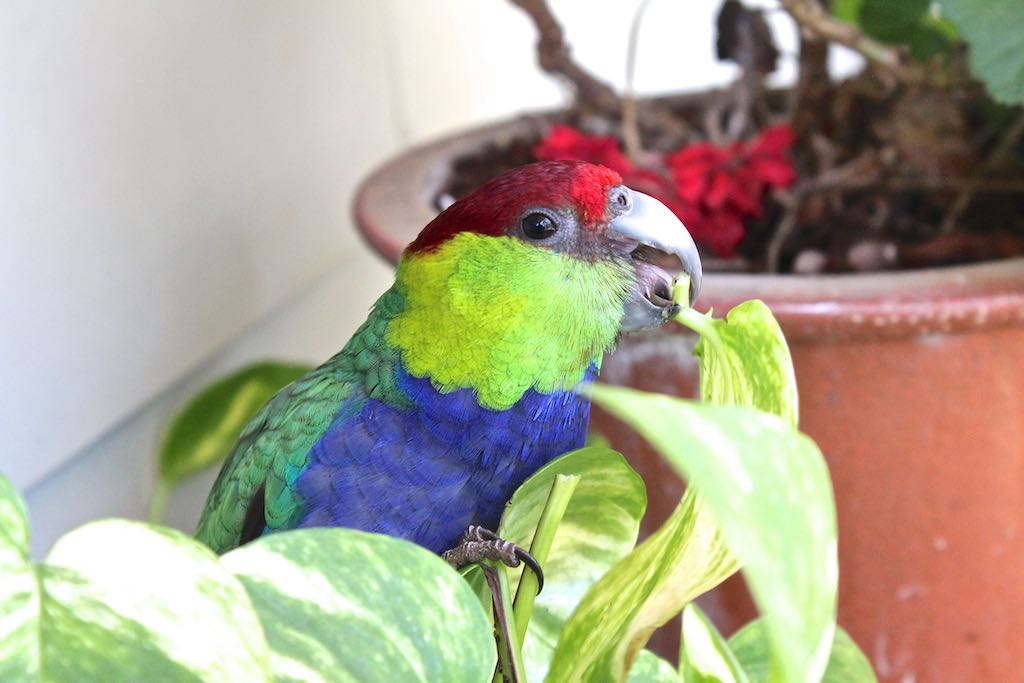 The clincher came after a couple of weeks. By this stage Ferret wasn't getting the Hotel Ritz service from us any more. He could recognise the meaning of the broom being waved at him, even from inside the house. And then he turned up in the garden with a friend. Another red-capped parrot. The fraud - he'd been perfectly comfortable in the wild all along! A few days later he appeared with a gang of three or four re-caps including a juvenile. Whether this is "Son of Ferret" or perhaps an impressionable young girl that he was bamboozling with tales of his Heroic Adventures in the Land of the Foolish Humans was not for us to know. But he was clearly perfectly adapted to the wild life.
After that he made numerous appearances with his young friend and other mates, and it was crystal clear that he knew exactly how to fit into the local bird scene. Everybody gave Ferret a bit of a chase if he got a bit too uppity, but no proper fights or a serious thumping. Just regular everyday bird stuff.
07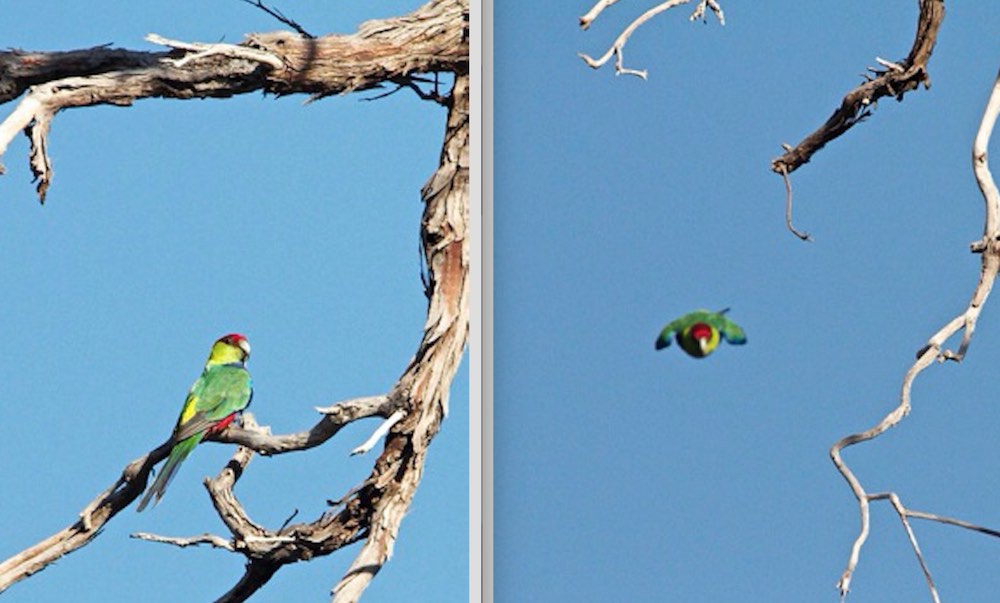 But then he landed on my son's back and bit his neck on a couple of occasions. M is disabled so couldn't cope with that sort of assault so Ferret had to go. Fortunately we were unexpectedly saved by a neighbour. It turned out that Ferret had been working the district and was well known to S. And one day she caught him in a butterfly net and gave him to her daughter who christened him Gavin and stuck him in an aviary. So the Ned Kelly of the bird world was back in jail.
But the old ways soon resurfaced and after a few weeks she took the bird to a large park (many miles from here) and released him again. Where he doubtless soon found a new bunch of suckers to terrorise…
Cheers,
Chris